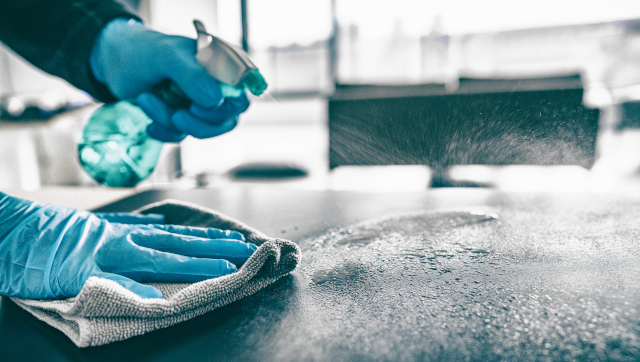 The importance of maintaining a clean and hygienic space has been highlighted over recent years with the worldwide spread of the coronavirus. This applies in both commercial and residential properties – and anywhere else that people visit. Regular cleaning efforts should be made on a frequent basis, whereas a deep clean might only be necessary once a quarter – or less – depending on the nature of the premises.
We take a closer look at the difference between deep cleaning and regular cleaning, so you can make an informed decision about what to do and how often you should be cleaning.
What is Regular Cleaning?
Regular cleaning includes anything you would do on a regular basis to keep a space looking clean and tidy. This could be anything from running the vacuum cleaner around every day to washing windows once a month. Any cleaning tasks that need to be undertaken monthly, weekly, or daily, would come under a regular cleaning list.
What is Deep Cleaning?
A deep clean should include everything that falls under the regular cleaning list, as well as other cleaning tasks that don't need to be carried out on such a regular basis. A deep clean could be required for general maintenance, or as part of a disaster recovery plan, such as after a flood or fire. Additional tasks in a deep clean would involve things like washing carpets, cleaning behind and below furniture, and on top of cupboards.
When is a Deep Clean Necessary?
There are a number of reasons why a deep clean could be required. Aside from your own peace of mind that the whole premises has been cleaned to an especially high standard, other reasons could be:
At the end of a tenancy agreement
This could be in either a commercial or residential setting, such as when moving out of a rented flat or house, or when moving out of an office building.
Another reason could be if there has been a significant accident that causes aesthetic damage, such as if paint has been spilled or there has been structural damage to walls.
Flooding can cause all sorts of damage to a building, not least to walls and floors. If there has been a substantial flood, it's advisable to arrange a deep clean so that the chance of residual dampness or mould is decreased.
Similarly, in the aftermath of a fire, it's vital to book a deep clean if the building will continue to be in use. A deep clean in this event will ensure ash is cleared up, the rooms are aerated, and smoke damage will be repaired. It's worth noting, however, that during a decontamination clean after a fire, it may not be possible to clean everything to perfection.
Deep Cleaning vs Regular Cleaning
For further guidance on deep cleaning vs regular cleaning, read our checklist below. This shows the kinds of tasks that should be done frequently and those that don't need to occur so often.
Deep Cleaning vs Regular Cleaning Checklist
| | | | |
| --- | --- | --- | --- |
| Regular Cleaning Tasks | | Additional Tasks Included in a Deep Clean | |
| Vacuum cleaning | | Mopping behind/below furniture | |
| Mopping floors | | Vacuum cleaning behind/below furniture | |
| Dusting | | Dusting on top of cupboards | |
| Disinfecting surfaces and handles | | Retouching paint | |
| Toilet scrubbing | | Washing carpets | |
| Washing windows | | Washing soft furnishings | |
| Polishing | | Removing scale from water-based equipment | |
| Washing up | | Cleaning appliances such as the fridge or oven | |
| Wiping away cobwebs | | | |
Deep Cleaning Tasks: Room by Room
It can be helpful to consider deep cleaning on a room-by-room basis. If the individual will be carrying out the cleaning, this is one way to make the challenge seem less daunting.
Kitchen Deep Clean
A notoriously demanding room when it comes to cleaning, make sure the following are checked during a deep clean:
Grease and grime are cleaned both in and outside of the cooker
The fridge is thoroughly wiped down and any gone-off food is thrown away
The freezer is defrosted, and any old food is disposed of
Appliances are pulled out and the hidden floor/wall space is cleaned
Kettles, taps, and other relevant appliances are descaled
Bathroom Deep Clean
The bathroom is another important room to keep as clean as possible for hygiene reasons. Make sure the cleaner(s) look at the following:
The toilet should be wiped down and disinfected every day, especially if it's being used by a number of people
All surfaces should be wiped down and regularly disinfected
Hidden floor and wall space, such as behind pipes or furniture, should be cleaned
Taps and shower heads should be descaled
Bedroom Deep Clean
As well as regular cleaning tasks such as washing and changing bedding, and vacuuming the room, chores to tick off during a deep clean include:
Picking up and cleaning behind/below furniture
Washing/polishing windows and mirrors
Picking up and cleaning below room accessories, from lesser-used toiletries to electrical appliances
Common Areas Deep Clean
Whether in a workplace or in a communal residency, common areas such as hallways and reception rooms should be kept clean for all to enjoy. Tasks to consider include:
Mopping and vacuum cleaning behind furniture
Dusting skirting boards
Washing soft furnishings such as chairs in a seating area
Touch ups on wall paint – hallways are especially susceptible for finger marks on walls and railings
Office Deep Clean
In an office, deep cleaning should be carried out somewhat regularly for the safety of employees, from a hygiene perspective. Ensure the cleaner(s) check the following:
Mopping and vacuum cleaning below all desks and behind furniture and equipment, such as printers
Touching up wall paint where there are scuffs, scratches, or finger marks
Wiping down all surfaces after picking up equipment such as desktop computers and keyboards
Washing soft furnishings including chairs and curtains
Changing Facilities Deep Clean
In a slightly different space, owners of leisure facilities must all consider how to deep clean changing rooms. This is not only important for customer hygiene but also for customer retention. People are not likely to want to return to a poorly kept changing area.
As well as regular maintenance, a deep clean should include:
Disinfection of all divider walls from top to bottom
Removal and cleaning of light fittings and ventilation fittings
Cleaning the inside and outside of lockers, including disinfecting keys
Post-Disaster Recovery Deep Clean
After a disaster such as a fire or a flood, we would always suggest procuring the services of professionals. At Restorations UK our team is adept at restoring a range of different premises that have seen damage or neglect. From fire and flood restoration, to mould remediation and odour removal, we have the equipment and the know-how. We also offer a sewage clean-up service. Get in touch for further information.