Flood Damage Cleanup Services – Emergency 24/7 Flood Response
As flood restoration specialists, Restorations (UK) offer a fast response flood damage cleanup service for jobs large and small. Rapid response is of the utmost importance in any disaster situation, including flooding. Here at Restorations (UK), we believe that the quicker you can have a team of specialist flood damage restorers on site, the more likely it is that the loss/risk will be reduced considerably. That's why we offer a 24/7 emergency flood response.
If a major flood disaster has caused extensive damage to your home or business, you can rely on Restorations (UK) to respond swiftly and professionally. We have 30 years' experience in flood restoration, which includes the decontamination and drying of flood water damaged properties and contents, as well as odour removal, speed drying and building repairs
24/7 emergency response
2-hour response time – full UK coverage
Established experts – in business over 30 years
Work with leading insurance companies
Water damage cleanup & decontamination of buildings and contents
Cleaning/decontamination of carpets/rugs/fine fabrics/soft furnishings
Removal and storage of contents
Speed drying
Odour removal
Specialist decontamination unit
Building repairs
---
Speak to an Expert 24/7 365 Days a Year

On-Site Within 2 Hours Anywhere in the UK

Get Back to Normality
---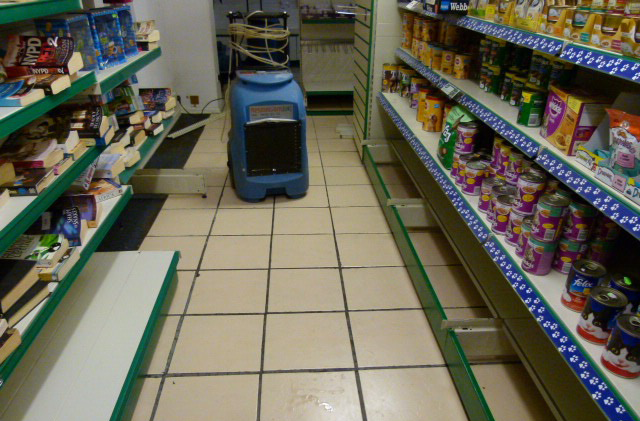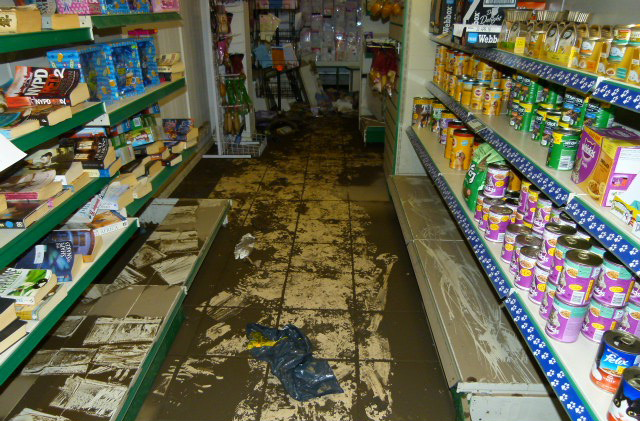 Our Flood Damage Restoration Transformations
Drag the slider to see this floodwater damaged shop before and after Restorations (UK work.
Our Flood Damage Restoration & Cleaning Process
Immediate response to attend your property
Once you call Restorations (UK) we will instruct your local response team to attend to your water damaged property. Your local emergency flood damage response team will arrive with a mobile water extraction unit which uses a powerful machine to extract the water.
The drying process
Whilst the response team are dealing with your water extraction, our drying specialists are deployed with the best equipment suited for the job. They will then install emergency drying equipment to keep humidity under control and prevent further damage.
The equipment will dry the property as efficiently as possible, with minimal disruption. Then a full report is submitted to you and your insurance company detailing the cost for works carried out and for any further works required.
Analysing the damage
The drying process is monitored closely by Restorations (UK). Once the property is dry we would then be able to see the extent of the water damage and supply a second estimate for the reinstatement works, enabling us to restore your property to its former glory.
Our self-sufficient mobile water extraction units
Our large fleet of self-sufficient mobile water extraction units sets us apart from our competitors. Being self-sufficient means that in the event of failed electricity or water supply, we can get to work straight away without having to wait for power supplies to be resumed, therefore reducing the risk of loss to a minimum.
Flood Restoration Service Breakdown
Water extraction and decontamination
We provide fast, effective flood water extraction from domestic and commercial premises using powerful water extraction units. Once the flood water is removed, the decontamination team will work to achieve 100% decontamination by hosing down walls, hard floors, hard surfaces and disinfecting affected areas.
Speed drying
We use various systems to extract moisture. Vacuum systems and high-pressure drying are most commonly used. These work by forcing hot dry air into cavities/voids and insulation, enabling us to dry these areas with minimum disruption and lower costs. Other types of drying we carry out include floating floor drying, drying tiled floors, behind wall units and panelling, and drying out boats.
Water damage clean-up & decontamination of buildings and contents
Water damage clean up can be a long process. If your property has suffered flood water damage, the water could contain contaminants and mud. Everything that has been in contact with the flood water will need to be disinfected and washed thoroughly. The property will then need time to fully dry out, so de-humidifiers will be installed to speed up the process.
Removal and storage of contents
If the property has suffered extensive flood damage, you may not be able to stay there until the property is safe and dried out. If you cannot return to the property for some time, you may wish to consider arranging for undamaged contents to be put into storage until such time as you can move back in. We can assist with this for as long as you need.
Cleaning / decontamination of carpets/rugs/fine fabrics/soft furnishings
We offer a professional cleaning and decontamination service for carpets, rugs, fine fabrics and soft furnishings. Upholstered furniture will soak up contaminants from floodwater, so it's important to get them professionally cleaned to ensure all contaminants are removed. We have mobile water-extraction units that can clean and dry out your soft furnishings and furniture quickly and efficiently.
Dry cleaning and laundering of all clothing and fabrics
If your clothes have been exposed to floodwater they may be contaminated. The dry cleaning process will disinfect clothing and hopefully remove any stains. We offer a complete flood restoration service, from initial water removal and cleanup to restoring your property and its contents to their former glory.
Odour removal
We offer a range of odour removal services for flooded properties as well as decontamination services which are carried out by a certified restoration expert. Once the areas are decontaminated, we use odour removal techniques and install specialist drying equipment to prevent possible mould growth.
Restoration of fine art
It may be possible to restore your fine art following flood damage. As flood restoration experts, we can evaluate damage and provide a quote on restoring your art. It's best to air-dry art objects or they can be frozen. We will also look to remove the frames you're using for your paintings, taking special care because water can weaken the art.
Restoration of documents
As with fine art, we can also offer to evaluate the damage on any important documents and provide a quotation for restoring the papers. We know how important some documentation can be, and that they are often vulnerable to soot, ash, and chemical damage.
Cleaning of contents at a specialist decontamination unit
We have a specialist decontamination unit where we can take away contaminated items and work on them with our highly specialised decontamination equipment. Once cleaned, we take swab tests which are sent to a lab for analysis, to ensure all items are bacteria-free.
Building repairs
Flooded properties often require work to be undertaken before they are usable again. We offer carpentry, tiling, plumbing, plastering, electrical works, flooring, redecoration, and kitchen and bathroom design and installation. Please get in touch if you would like a quote on building repairs caused by water damage.
Flood Restoration Project Gallery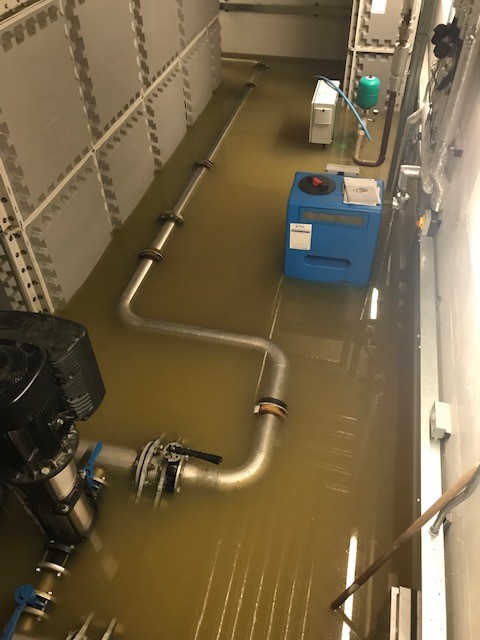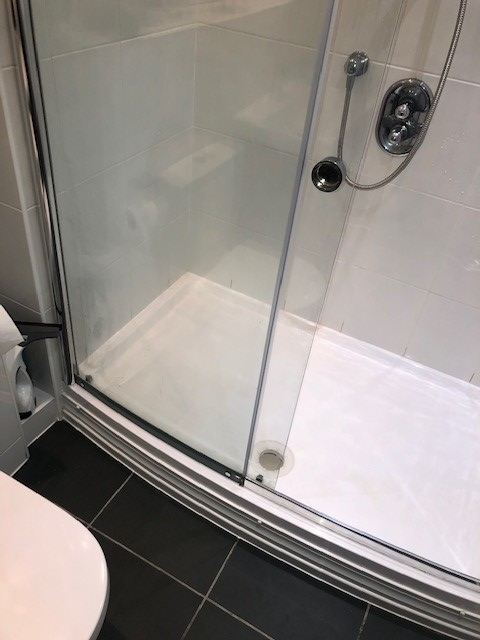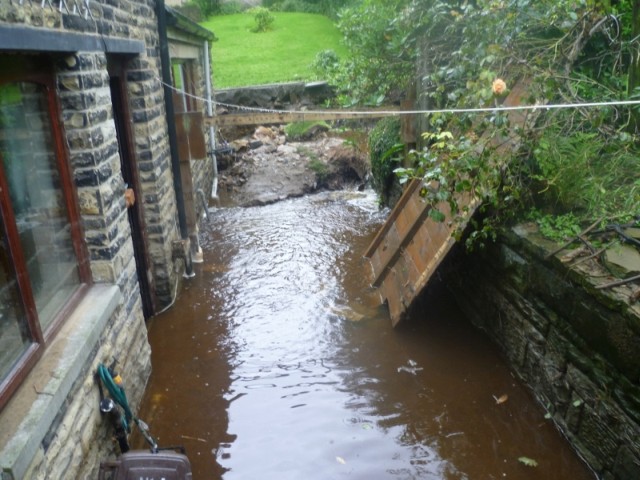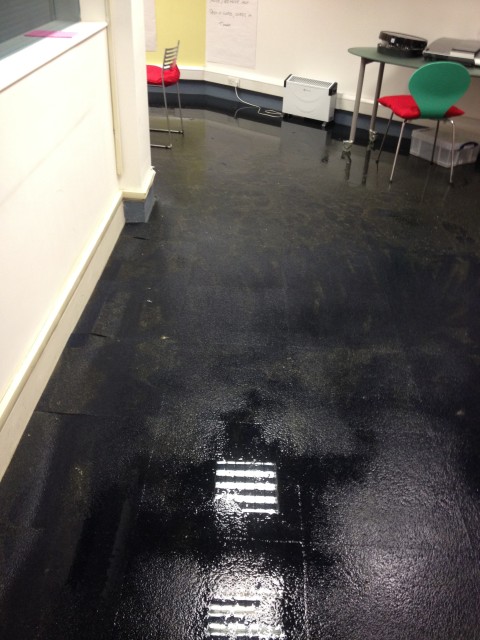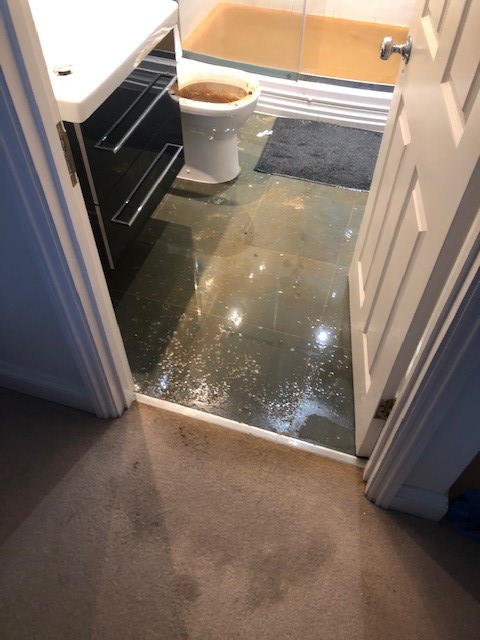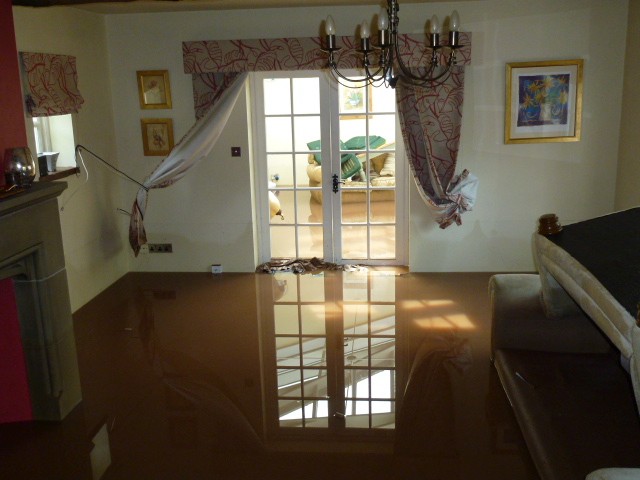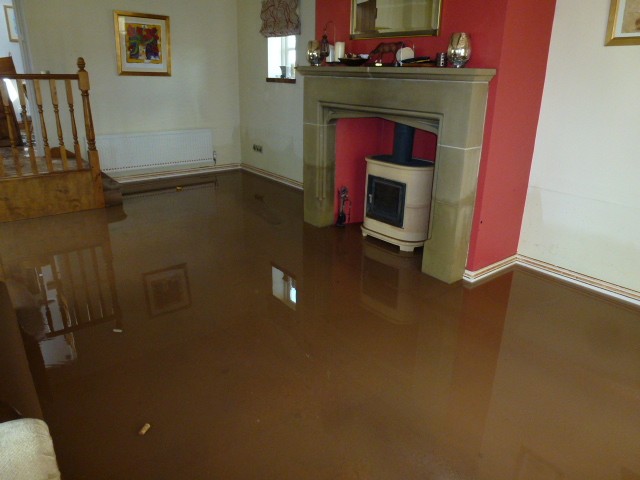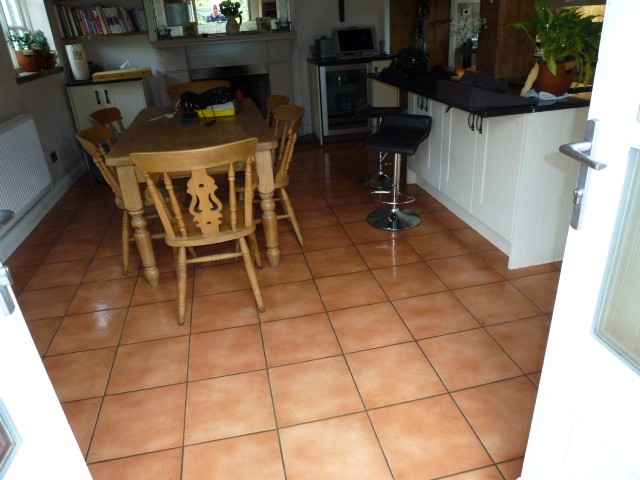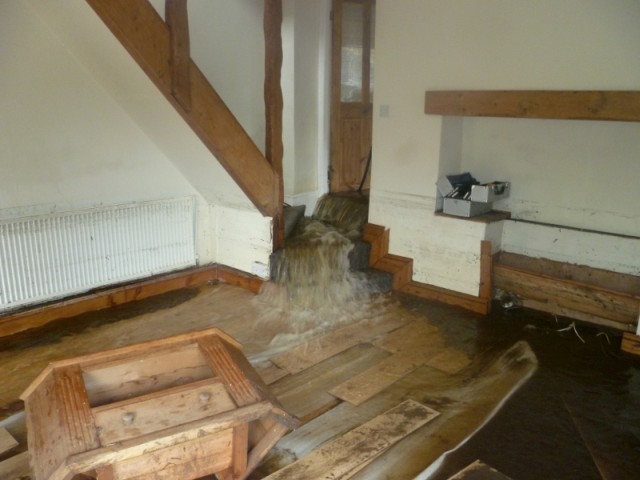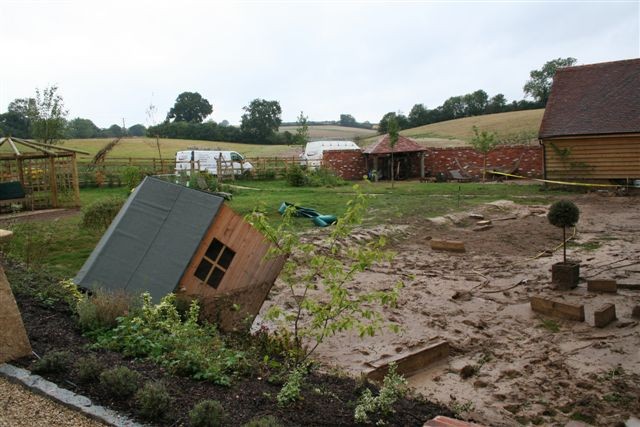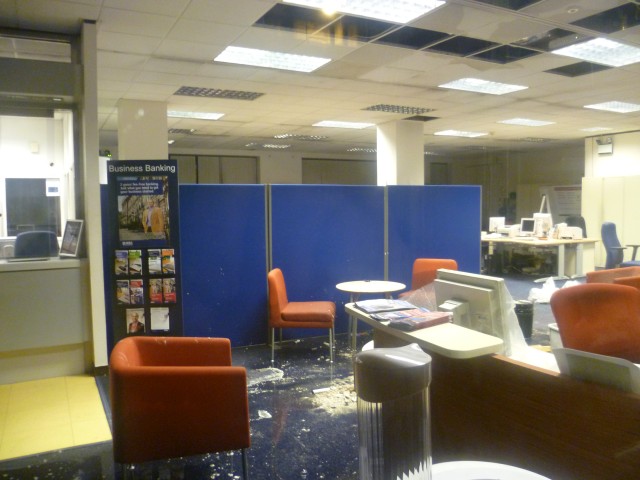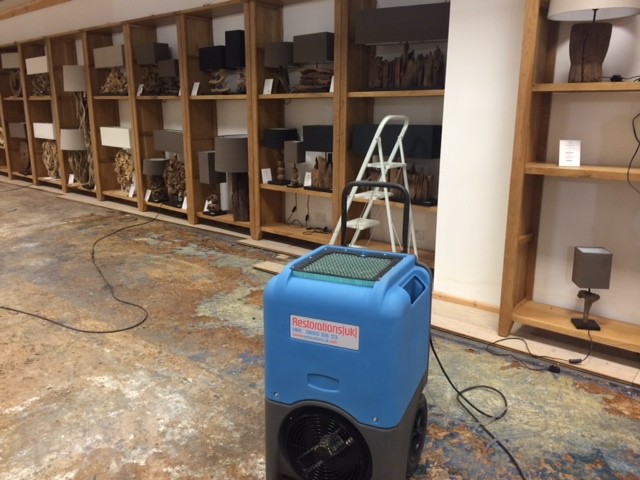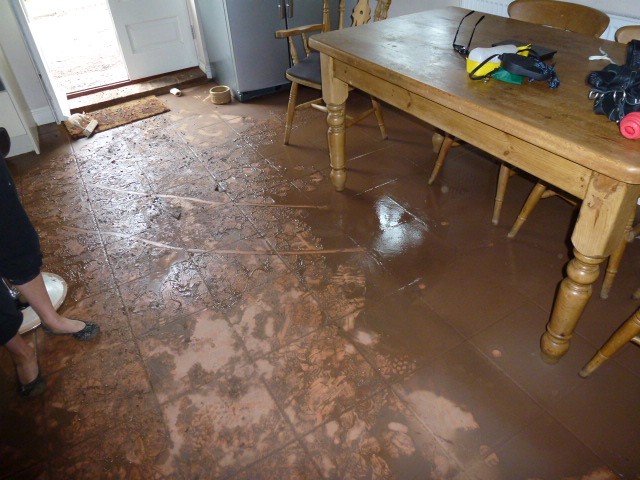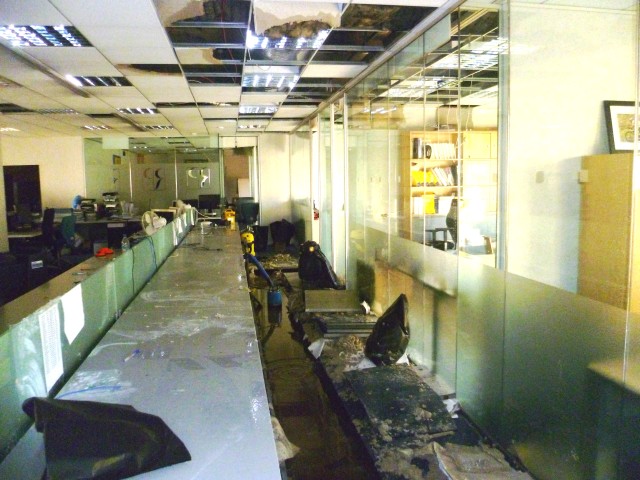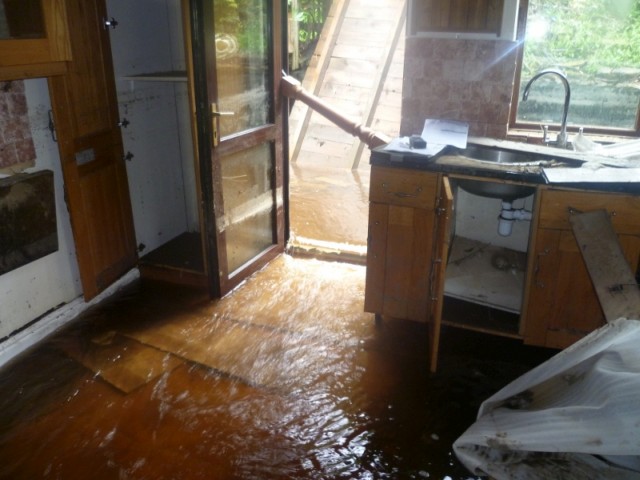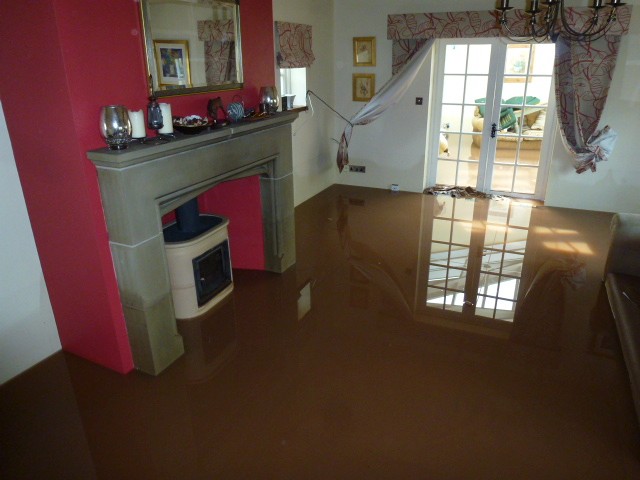 Flood Restoration FAQs
What types of properties can you restore?
We can restore all kinds of locations suffering from flood damage, including:
• Houses
• Voids
• Lofts
• Shops
• Commercial
• Schools
• Wedding venues or restaurants (emergency speed drying)
• Offices
• Night clubs
• Hotels
• Boats
• Lift shafts
• Wet trades
What should you do first when your house is flooded?
What should you do first when your house is flooded?
You and other family members' safety is of the utmost importance. You should move to a higher part of your home and call for assistance, or if possible, leave the property by a safe, dry route. Call 999 immediately if anyone is in danger and needs rescuing.

Once you have vacated the property, you will need to notify your landlord or insurance company that the property has been flooded. They should then arrange emergency/temporary accommodation for you.

Once you have been told it's safe to re-enter the property, you will need to document everything you see, so that you can show your insurer the extent of the damage. Once the damage is properly documented you should next arrange for a professional like Restorations (UK) to assess and repair the damage.

Visit floodguidance.co.uk for more information on the steps you need to take when experiencing flooding at home.
How long does it take to clean up a flood?
This will vary depending on the severity of the damage to the property. It can take anything from 7 to 21 days to achieve the required drying before any reinstatement and redecoration.
How do you restore water damage?
Restoring a flood damaged property involves a number of steps. We will first extract excess water from the property using a mobile water extraction unit. Once this is done, we will set about fully drying out the property using our advanced drying solutions. This prevents any potential mould growth in the future and makes sure every inch of your property is dry.

Depending on how long the water damage has been in place, mould remediation may also be needed to ensure all traces of current mould are cleared and removed. We will also undertake odour removal to make sure your property smells fresh and loses any lingering damp smells.