Specialist Drying Services Utilising the Latest Technology and a Wide Variety of Equipment
Restorations (UK) have been drying insulation for most major construction companies, insurance companies and surveyors for 30 years and are a recognised name in the industry for this specialist service.
Restorations (UK) have invested heavily in the latest drying technology, training and equipment for water damaged properties. Our technicians have been sent on various industry training courses to ensure we can offer the best solution for each type of water loss.
With the knowledge we have and our extensive training, Restorations (UK) have dried many water damaged properties, as well as insulation under floors, boats, cars and even a basketball court (whilst being played on!) Nothing is impossible for our experts, so please call for an assessment today.
24/7 emergency response
2-hour response time – full UK coverage
Established experts – in business over 30 years
Work with leading insurance companies
Latest technology & equipment
Floating floor drying
Floor voids
Cavities
Cavity wall insulation
Tiled floors
Under floor services
Behind wall units and panelling
Boats
Cars
---
Speak to an Expert 24/7 365 Days a Year

On-Site Within 2 Hours Anywhere in the UK

Get Back to Normality
---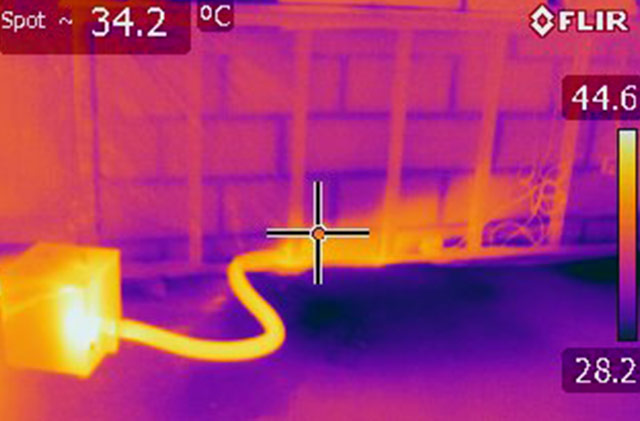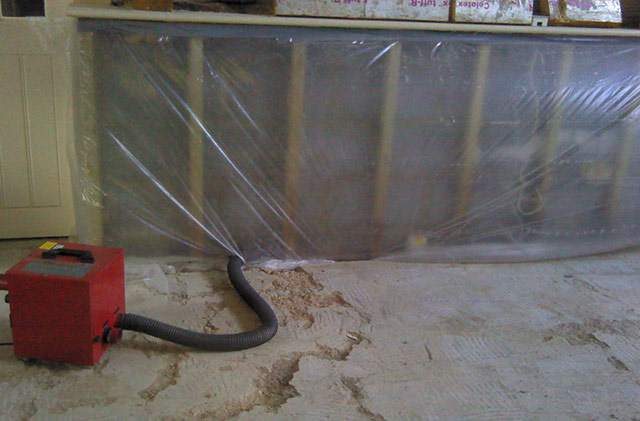 Specialist Drying – Before & After
Drag the slider to see how our specialist drying process in action.
How We Do It
We don't cut corners
We often get asked how we are able to dry voids and insulation under the floor and in walls, as many builders and drying contractors don't have the specialist drying knowledge required. In fact, we often find those who are inexperienced remove floors and walls unnecessarily.
At Restorations (UK), we use various systems to extract moisture. Vacuum systems and high-pressure drying are most commonly used. These work by forcing hot, dry air into cavities/voids and insulation, enabling us to dry these areas with minimum disruption and saving our customers money.
Our Drying Equipment for Hire
Should you wish to hire drying equipment yourself, Restorations (UK) offer a selection of dehumidifiers in different sizes, high speed air movers and more. If you aren't sure what drying equipment you need, get in touch – we're happy to help advise.
Specialist Drying Service Breakdown
Water extraction and decontamination
Prior to any drying work, if required, we can provide fast, effective flood water extraction from your domestic or commercial premises using our powerful water extraction units. Once any excess water is removed, our decontamination team will work to achieve 100% decontamination by hosing down the property's walls, hard floors, hard surfaces and disinfecting affected areas.
Vacuum & high pressure drying
Drying needs to be undertaken as soon as possible after flooding to avoid any further damage from occurring. To do this, we commonly use vacuum systems and high pressure drying to force hot dry air into cavities, voids and insulation. This enables us to dry these areas with minimum disruption. Pressure drying is often a faster solution to suction drying.
Suction drying
Our suction drying process pumps excess water out of the affected area. It's similar to pressure drying, however suction drying takes dry air from the room and forces it through gaps or purposely drilled holes into the damp areas. Damp air is then sucked out and exited via a turbine.
Floor joist drying
Drying floor joists is carried out by forcing dry air from refrigerant and desiccant dehumidifiers under the floor void. This then creates a dry environment in the void, ensuring the moisture in the joists dissipates into the atmosphere and escapes through the air bricks.
Room dehumidification
Our room dehumidification service helps to dry individual rooms affected by water damage. This is achieved by blowing dry air into the affected room, removing moisture. We also offer a range of dehumidifiers for hire in a range of sizes, depending on the extent of the damage.
Removal and storage of contents
We will remove and securely store all contents of the affected property/location. This allows us to undertake our restoration work effectively, working from the inside out. Any irreparable items will be disposed of correctly whilst any repairable items will be cleaned and decontaminated.
Restoration of fine art and documents
We provide professional, meticulous restoration of fine art and documentation. We know how important these possessions can be, and they are often vulnerable to soot, ash and chemical damage. For fine art, we can restore paintings that have blistered, flaked, cracked or warped in fire, as well as restore documents to a readable state.
Remote monitoring
We make use of remote monitoring to keep an eye on the drying process without needing to be physically at the property. This allows us to keep on top of the drying process, saving you money and reducing downtime.
Mould remediation
Where there's damp, there's often mould. Fortunately, Restorations (UK) offer a mould remediation service to remove and prevent further growth from happening in the future. All of our technicians have been fully trained in the latest mould remediation techniques to ensure your property is completely decontaminated and returned safe.
False Floors
In the past, we have installed false floors and sacrificial carpeting to allow businesses to continue to operate whilst the drying process is underway. Should our customers require it, this is something that can be arranged.
Specialist Drying Project Gallery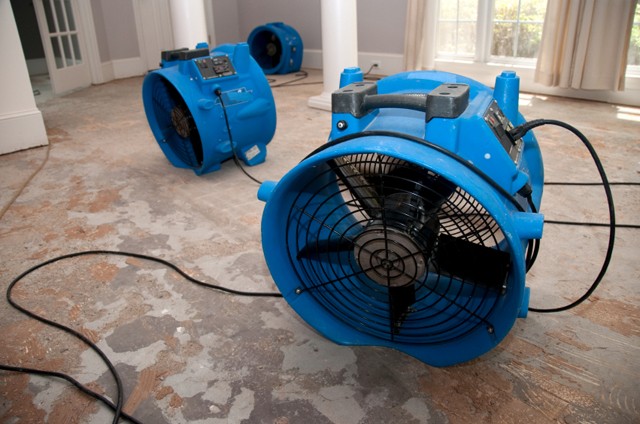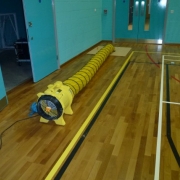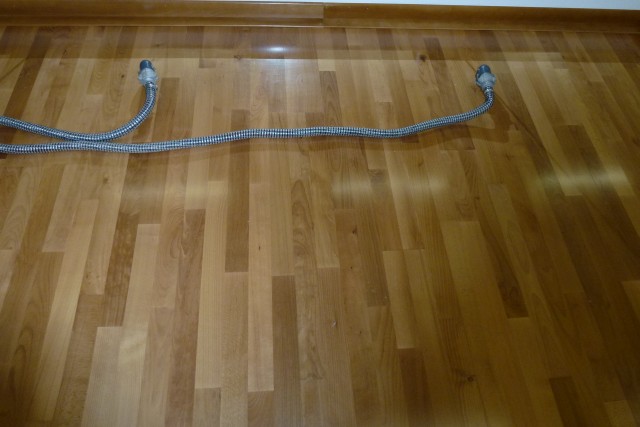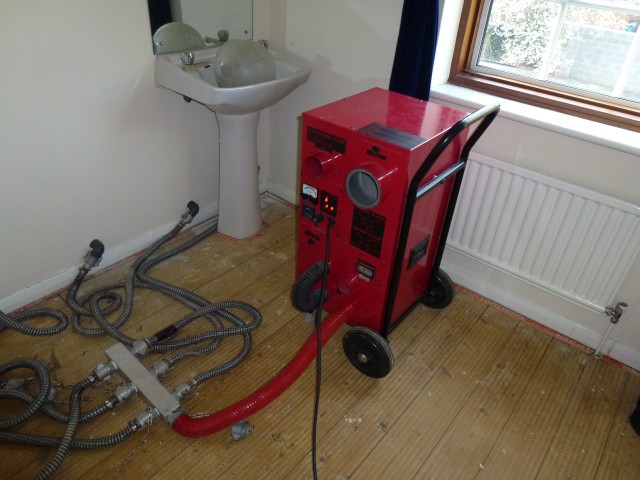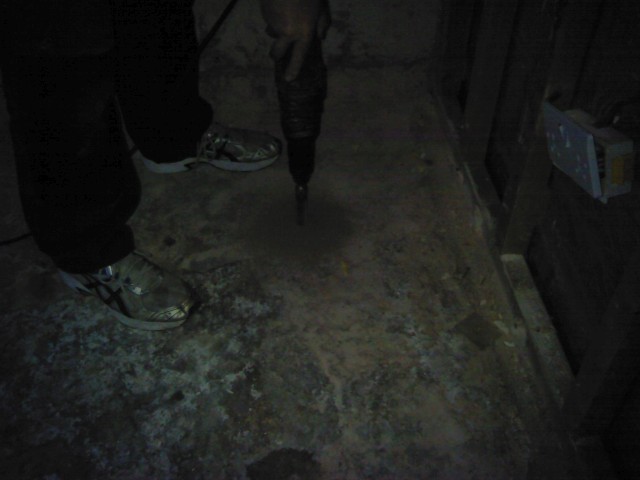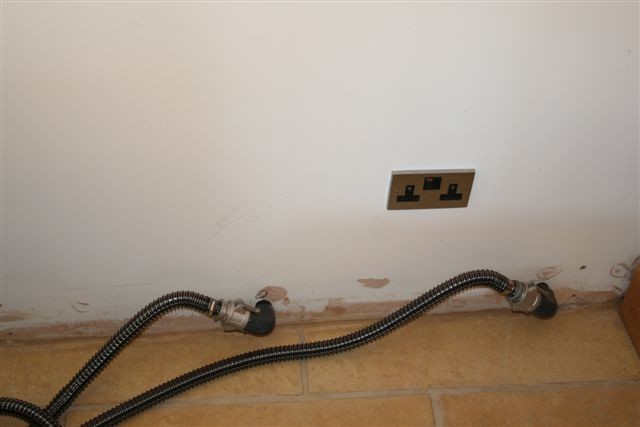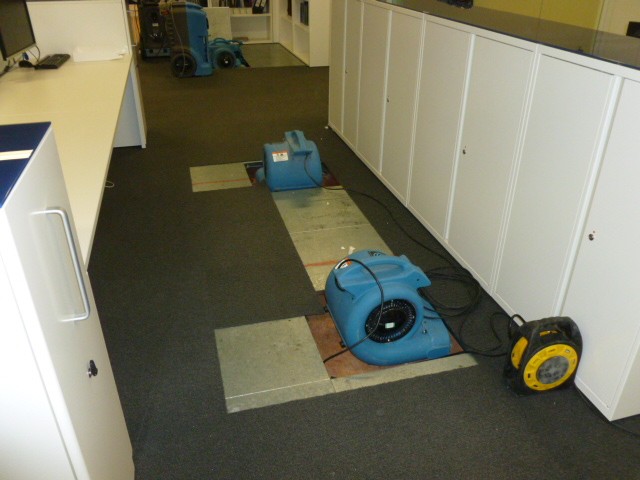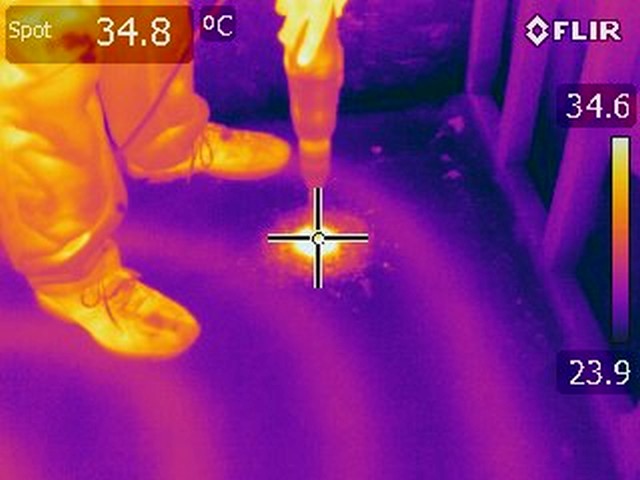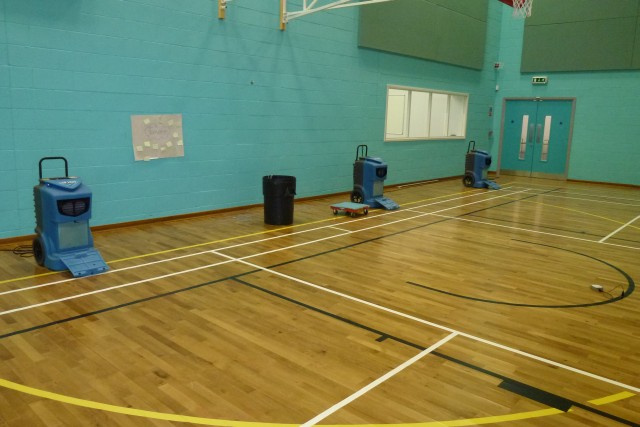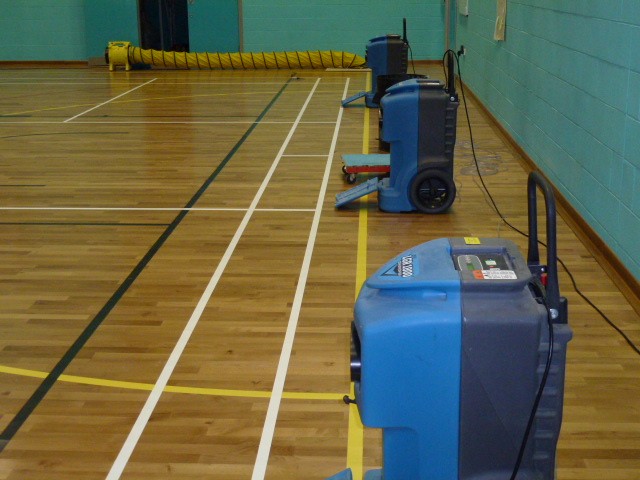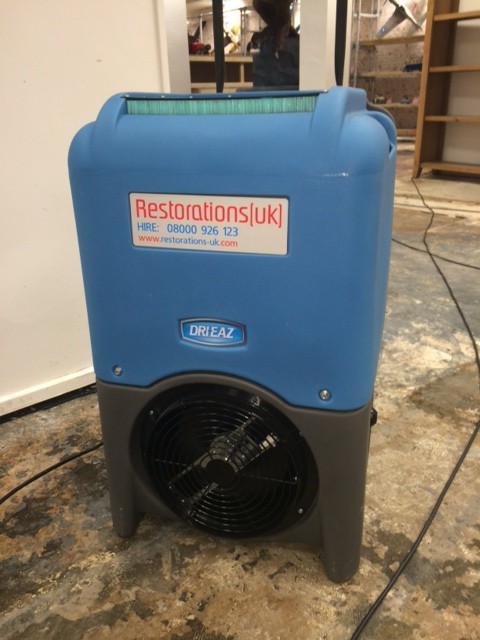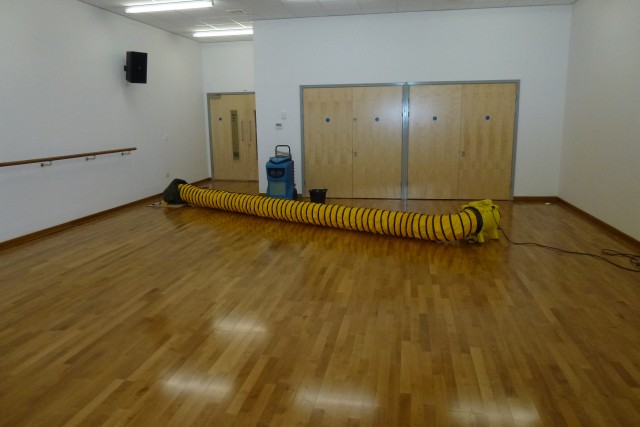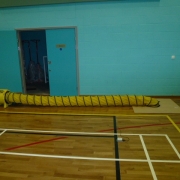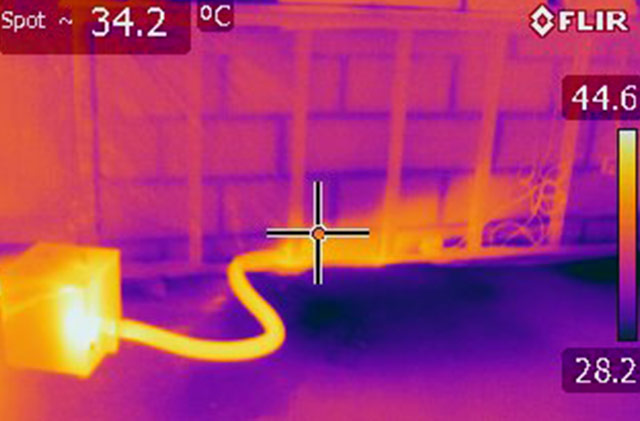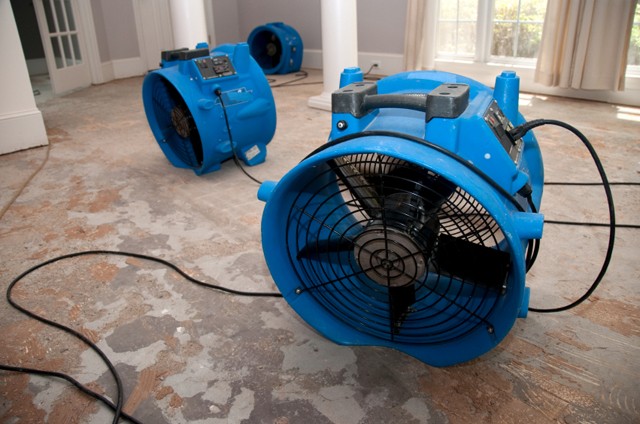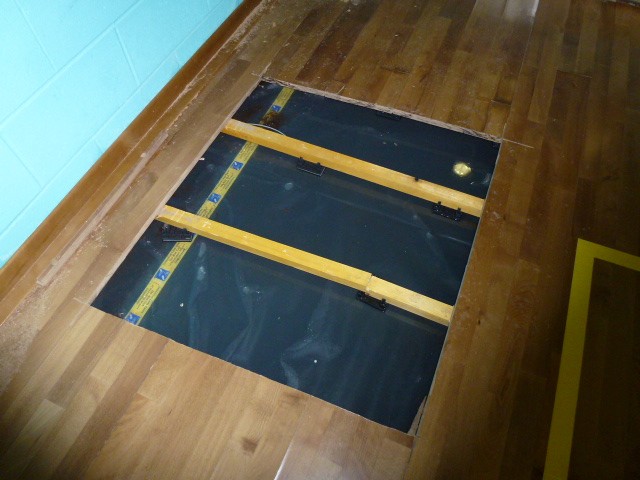 Specialist Drying FAQs
How do you dry a house after a water leak?
We use a variety of systems to extract moisture after a water leak in a property. This can take the form of vacuum and high-pressure drying, suction drying and room dehumidification. Without proper help and guidance, it's no small feat drying a house, including carpets and furniture, after a flood. Our experts can help determine the solution that will work most effectively and swiftly in the affected property.
Does water damage happen immediately?
The effects of water damage in a property can be experienced almost immediately. As you can imagine, this includes immediate visible damage to walls, floors and furniture, as well as costly and unseen damage elsewhere.
How do you dehumidify a room?
We would recommend using professional dehumidifiers to dry domestic and commercial properties of all sizes. The size of the dehumidifier required depends on the size of the room that needs drying. See our choice of dehumidifiers for hire here.
How long does it take to dry out water damage?
This depends on several factors. The first being the extent of the water damage – i.e. how many litres of water needs to be pumped out? Additionally, the size of the affected rooms will need to be taken into consideration. For a general indication, it can usually take between 12 and 72 hours to dry out water damage.