A leaking ceiling is something no-one ever wants to deal with. Whether it be the effects of the UK's abundant wet weather, plumbing problems, leaking pipes or leaks from dwellings above, it's an ever-prevalent issue. No matter the cause, if you spot a leak coming through your ceiling, here's what to do next.
The team at Restorations (UK) have compiled a list of steps you can take to minimise damage while you wait for a response from our team.
1. Initially Identify the Leak in Your Ceiling
First, place a bucket or similar receptacle under the leak to contain the water. Next, it's time to identify what type of leak you have, as this determines the actions you need to take.
Leaks from the Roof
If the leak only happens in wet weather, then the chances are that it's coming through a hole in the roof. Clearing out the loft and insulation near the affected area can help, as well as putting a receptacle in the loft.
Feel around near the spot to try and find any damp or moisture. While you may not be able to find the exact spot, having a vague idea is helpful. Mark this carefully and call a professional out. They will be able to accurately identify where the leak is coming from, as well as repair it.
Leaks from the Ceiling Directly
If you have a leak that appears to be coming directly through the ceiling, the chances are that it's your plumbing. This is a lot harder to identify, so it's best (with good health and safety in place) to pierce the ceiling with a sharp tool to avoid water pooling and put a large bucket down. If the leak is large, or you are unsure, then avoid this and call an expert immediately, staying away from the affected ceiling. Switch off your water mains and wait safely.
The reason for piercing the ceiling is that it prevents the weight of the water from pulling your ceiling down, something that would cost more to fix in the long run.
If you think the leak is coming from the flat or residence above, try and let them know immediately and contact your buildings manager to inform them of the leak as well. They may be able to switch off the water centrally.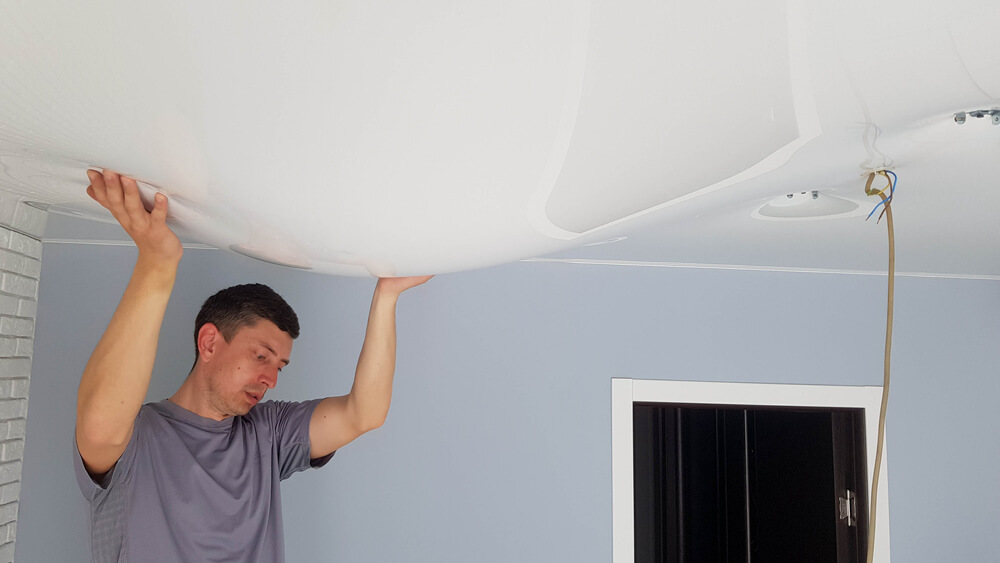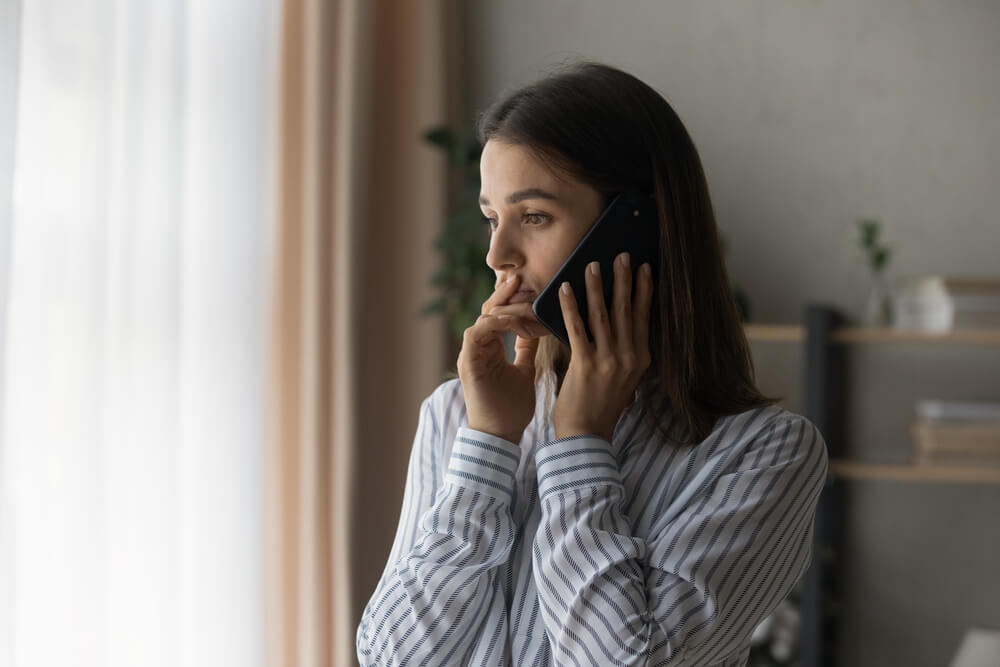 2. Phone for Immediate Help
When dealing with a leak, it's best to get an expert in as soon as possible before the damage gets any worse. They can carry out repairs and detection which will save you trouble in both the short and long term.
Your insurance provider may instruct an expert on your behalf, or they may ask you to contact one who will then provide them with a report. Either way, call your building insurers first.
3. Arrange Expert Leak Detection
Using the latest technology, an expert will identify hidden leaks in your home or business – often without needing to lift flooring or remove walls.
As an example, here at Restorations (UK), we use four different kinds of specialist leak detection as follows:
– Thermal imaging shows us hot and cold surfaces in a building, and we use this to find leaks under floors and behind walls without disturbing the location.
– Non-destructive moisture meters use radio frequency to find moisture behind ceramic tiles, vinyl floor coverings, wood, drywall, masonry and concrete without the need to remove them.
– We also use gas trace detection for pipes, as the gas is light and makes its way to the gap quickly, where we can pick it up with detection tools.
– For confined spaces, we use a boroscope, which is essentially a camera on a flexible tube. This allows us to see into small areas without damaging the property further.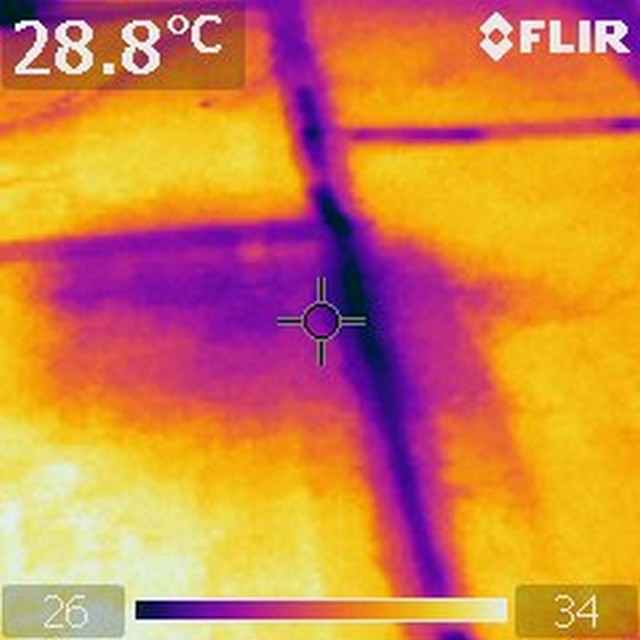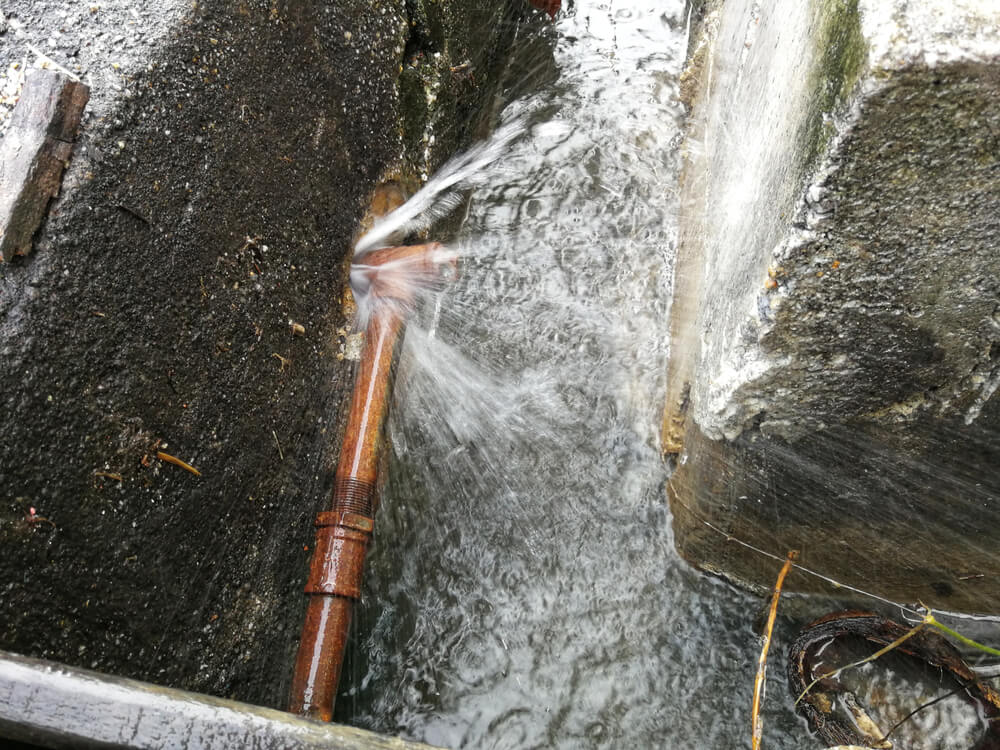 4. Fix the Leak
Unless you're an expert plumber, fixing the leak may not be possible. However, to prevent the leak from spreading further, switch off your water mains firstly. Then, if the hole is visible, consider applying a small patch, such as tarpaulin fixed down with duct tape to cover any visible holes.
For a hidden leak, such as through the ceiling, the best thing to do is simply collect the water in a bucket and switch off your water mains, as you wait for an expert plumber to assist you.
5. Restore the Leak Damaged Room
Once a leak has been fixed, there is often a large amount of damage, from damp damaged ceiling patches to broken insulation.
If there's been water damage to the floor or walls, then this is another problem that will require fixing.
Water damaged rooms need drying out before repairs and restoration can happen. An expert restorations company should use specialist drying equipment to ensure the room is fully dry before remedying the damage.
Once the leak has been fixed and rooms are dry, either your choice of restorations company will create a plan of action to restore your home to its original condition.
This restoration could involve mould remediation, or simply replacing insulation. It can be hard to find the time or materials to do specialist repairs yourself. Whatever the scale of the problem, an expert can advise on the best course of action and provide you with a solution.