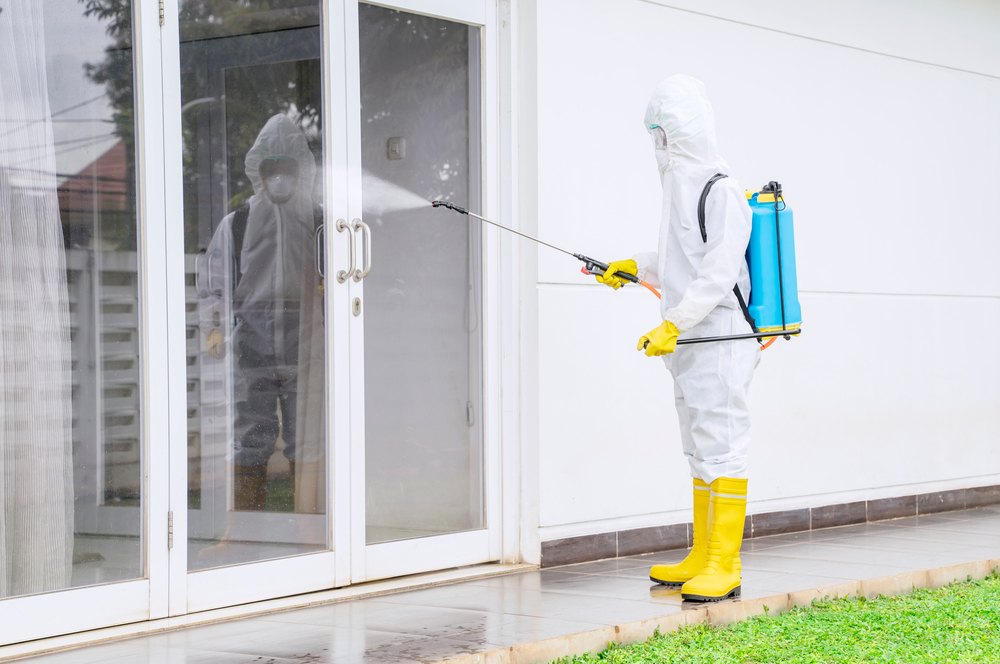 As part of the restoration process, we regularly decontaminate large spaces, from residential homes to commercial offices. Decontamination helps to complete the restoration process and makes it safe for the space to be used again.
Read on to learn about the three levels of decontamination, and how they affect the restoration process.
The Three Levels of Decontamination
Decontamination can be easily split into three distinct stages:
Cleaning
Disinfection
Sterilisation
1. Cleaning
Cleaning includes the removal of any contaminated areas and items, such as furniture, and focuses on removing substances from the affected area and its surroundings.
Cleaning, as part of the decontamination process, allows a space to have the contaminant removed and the restoration process begin. Cleaning can be as simple as wiping down a wall with a sponge and water, or it can be as resource intensive as jet washing an item with a specialist cleanser to remove all traces of dirt.
It's an important first step in any restoration project, from removing sewage from a bathroom to cleaning soot off a wall. Often overlooked, cleaning must first happen, even in the most seemingly insignificant projects.
2. Disinfection
As part of the decontamination process, it's important to remove any infectious or dangerous substances. Mould, for example, often needs disinfecting to remove bacteria from the area. Disinfection isn't 100% able to remove every bacterium, but it removes the imminent threat, and continual disinfections will remove recurring bacteria.
The disinfection process uses chemicals, from freely available anti-bacterial sprays to more intense chemicals that require licenses and proper training to use. Correct disinfection processes should include cleaning the person doing the disinfecting, whether this is through single use PPE, or through certain showering methods. Either way, correctly disinfecting every aspect of an area, including the cleaners, is key to the success of a project.
3. Sterilisation
Used most commonly in medical fields, sterilisation removes all unwanted substances from a cleaning instrument or equipment used, to ensure any dangerous substances aren't transferred from them.
For an area to be deemed safe, it will often need to be sterilised, especially in case of known or potential bacteria, microorganisms, or viruses. Sterilisation will remove all trace of a contaminant. Sterilisation can happen through dry or moist spraying, heat, UV or chemicals, as well as proprietary equipment which varies across companies
Why is Decontamination Important?
In the restorations business, we often see homes and buildings devastated by a variety of problems, from floods to fire. Decontamination helps people reinhabit buildings that have been affected, in the knowledge that they are safe. During the decontamination process, experts will take swabs of the area to ensure the contaminant is removed.
For example, every winter heavy floods affect buildings across the UK. Without careful and professional restoration, homes would be uninhabitable for many months, and local economies would crumble. A team of experts are able to identify problems and restore communities in a swift and professional manner.
Therefore, reactive and professional restoration experts need to be summoned at the earliest opportunity to begin bringing your home back to life.
Where is Decontamination Useful?
Decontamination has applications across multiple industries and environments. In restorations, decontamination is commonly applied across the board, especially where body spills, infectious substances, dangerous chemicals, and/or toxic fumes are in play. For example, after a fire a home needs decontaminating to remove all dangerous smoke and soot. Smoke and soot contain multiple particles that can be dangerous to humans.
Decontamination specialists will need to apply expert treatments, whether this be fogging, chemical sponges, or more demanding solutions.
Decontamination restores homes and communities, keeping them safe now and in the future.
Do You Need Decontamination Services?
Speak to Restorations [UK]. We provide decontamination across a variety of areas, including mould, fire, and more.