Large Dehumidifier for Hire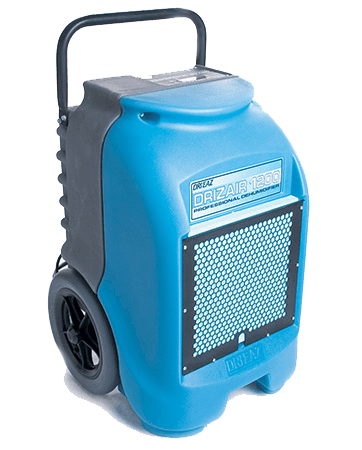 Cost Per Week: £95.00 (Ex VAT)
A proven favourite of the professionals for building drying.
Typical applications
Drying flooded offices and homes
New build structural drying
Renovation Drying Plaster
Cars
For best results – combine with air movers to help promote evaporation – the key to successful drying.
Humidity Control
Domestic Condensation Control
Controlling humidity in gyms & server rooms etc.
---
Key Features
Weight: 36 KG
Max Water removal per 24 Hr: 55 Litres per 24 Hours
Lowers Humidity Levels to: 40% RH
Air Movement per hour: 325M3/hour
Power consumption: 0.69KW/hour
Supply voltage: 230V
Technician's Review & Prices
A favourite dehumidifier for general drying in the restoration industry, just leave running and machine pumps water down drain so no need to empty. Great for every day drying jobs
Please note that all prices are exclusive of VAT and are for a minimum hire period of 7 days
All equipment is subject to a minimum hire charge.
Not sure what you need?
Call us today to find the best product for your situation
You may also be interested in